Twisted Stitch Seats - RZR XP1000 Vortex – 115-101-340 BLACK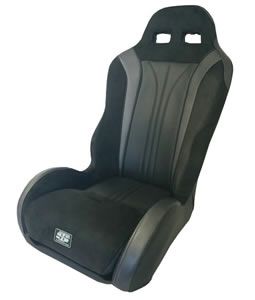 Twisted Stitch Seats - RZR XP1000 Vortex – 115-101-340 BLACK
Twisted Stitch Seats design team took the fifth generation Vortex seat and gave it a refresh for Polaris' latest vehicle, the RZR XP1000. The XP1000 Vortex seat provides high containment while still allowing easy entry/exit with its cutaway lower bolster design. It also features headrest holes for easy removal of 5 point safety harnesses and a submarine belt slot. It is designed to work with the factory slider without raising the rider in the vehicle by using Twisted Stitch Seats' exclusive billet aluminum mounting system. It features a removable seat cushion for added comfort, more durability and easy cleaning.
Popular options include seat heaters, adjustable lumbar support, diamond stitch design and "dry foam" cushion for those riders in wet conditions. The XP1000 Vortex is available in a number of standard color ways and can be further customized when the customer picks their colors, materials and adds logo embroidery by ordering them with the build sheets supplied on the website.
Fits RZR 1000. Does not Fit RZR 900 and 800 models.

Reviews