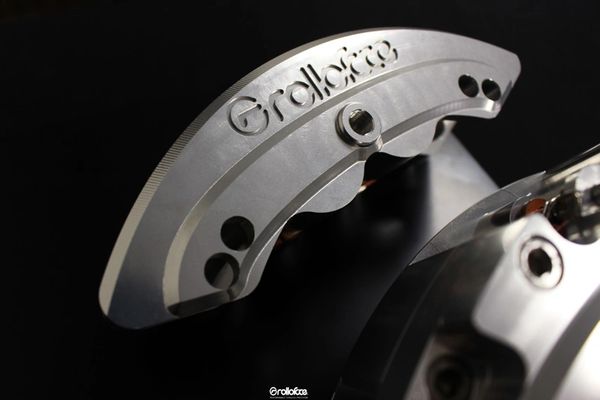 Big Brake kit
Rolloface SXR-Series brake upgrade for the Can-Am X3 is an extremely important modification that can get easily overlooked. In racing they say, "fast in and fast out". "Fast in" is hard to do with the stock Can-Am X3 brakes as they are extremely soft and simply cannot handle over 210 horsepower modified vehicles. Rolloface Brake Systems research and development to big brake kit for the Can-Am Maverick X3. As an OEM supplier to Can-Am and other manufactures for braking components, Rolloface decided this was an important upgrade that needed to be made. Through proper engineering, race testing, and validation. This big brake kit will give you the competitive edge on the trails, in the dunes, and in the highest form of racing!
The complete brake kit is 100% a bolt-on system. There is nothing to modify, cut, buy extra, etc. Each caliper is a forged design that is then CNC machined to spec. Special CNC machining of the brake caliper design allows for maximum air cooling to keep brake temperatures down which helps avoid potential brake fade. Each caliper has staggard, oversized. These calipers and rotors are designed to fit under the stock 14 inch wheels for those that retain them or use it as a spare.
Competition racing pads:
Copper sintered material with high friction coefficient.
Excellent performance and recovery It suits for mid-heavy duty UTV. The friction coefficient can reach above 0.55 while in average working temperature Stable using life, less rotor wearing.
During the service temperature, only a slight friction coefficient change while in different speed and reducing speed. It also carries a great performance.
Resist the water and mud along with less wearing
Features:
Plug and Play Kit – No Modifications Required!
Special competition racing Pad Compound – Provides increased durability over the stock compound in all temperature ranges without risk of of glazing or fading.
Full CNC Machined Calipers – Machined from 6061 T6 aluminum. Larger Diameter Brake Rotors for the Front kit.
Stop power more 45% than stock calipers.
Condition:
Anodize silver color
Brake calipers letter: Red
Custom color with brake calipers: Over 6500 color options by powder coating ( Extra charge $99 / set )
Slotted & drilled 260mm rotors
Reviews