Demon Heavy Duty Stock Length 2014- 17 Polaris RZR XP 1000 / XP 4 1000 Front Axles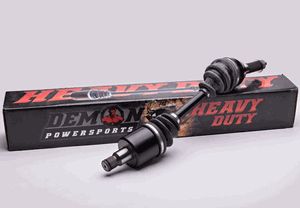 Demon Heavy Duty Stock Length 2014- 17 Polaris RZR XP 1000 / XP 4 1000 Front Axles
2014 - 17 RZR XP 1000 / XP 4 1000 FRONT AXLES
Axles are sold individually.
Heavy Duty axles designed for off-road use where an original factory axle may prematurely wear out or break due to extreme stress. Built with stronger components these axles are much stronger than the OEM replacement axles and as with the OEM replacement product line, no modifications are necessary for installation.

These heavy duty stock length axles are a direct replacement of the OEM axles except for one crucial part, they're stronger and meant to take a worse beating. The axle shafts are made from a Chromoly steel and have an approximate 20% oversize in axle diameter and 15% larger CV joint size to take on those extreme obstacles that you are sure to tackle. The CV joint features components that are precision machined and have an ultimate swing angle from 45-47 degrees to ensure power is put to the ground without the dreaded axle binds that other axles can fall victim to. So if you're looking for a replacement axle for an already damaged one or your looking to get some spares these Demon Heavy Duty Axles are great options for you.

Features:
Chromoly steel
Approximately 20% increase in axle diameter
Approximately 15% increase in CV joint size
Ultimate swing angle of 45 to 47 degrees
Internal CV joint components are precision machined and have induction heat treated bearing, CV Cage and Races to reduce friction and increase CV joint strength and durability
Molybdenum grease used
Reviews