GMZ Venomous Razor Wheel Set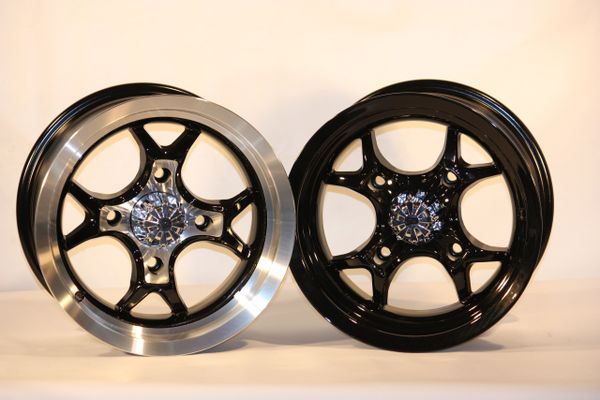 GMZ Venomous Razor Wheel Set
The Venomous wheels by GMZ are a great option for a non-beadlock wheel in a unique spoke design. These wheels are available in 12" and 14" sizes. This is recommended as an OE stock replacement, or a special offset for the GMZ Sand Stripper Tires in 14". The 14" Venomous wheels are only available in centered offsets.
This special offset in the 14" keeps the wheels aligned to create more speed and traction with floatation in the sand dunes. The special unique offset also makes the vehicle 4" wider than stock. In most cases, this helps to prevent buying expensive suspension kits or wheel spacer to make the vehicle wider.
The Venomous wheel is load rated at 800lbs per wheel. The 12" weighs 11 lbs and the 14" wheel weighs 13 lbs. These very light weights are an industry first for a wheel as big as a 14x10. The Venomous wheel comes with a Lifetime manufactures defect warranty.
The set includes 2) 14x8
2) 14x10
Reviews