Polaris RZR XP-1000 Elite Long Travel / Complete Suspension Kit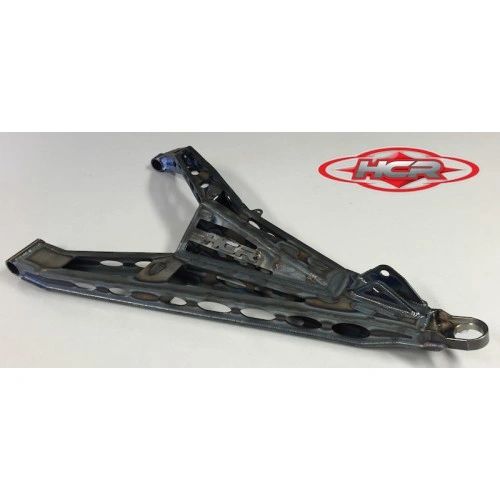 Polaris RZR XP-1000 Elite Long Travel / Complete Suspension Kit
RZR-05600


Polaris RZR XP-1000 Elite/ Sand Series Long Travel Suspension 


This Complete Suspension kit works with all years and models as they are

custom built to order

: 
All Years Standard XP1000 2 & 4 Seat Models 2014 - 2017 
Fox Edition 
Rock Edition 
Factory Turbo Models 
Any Special Edition RZR XP1000
WHAT YOU GET
-4 high clearance boxed front arms  

-2 rear boxed high clearance trailing arms 
-boxed high links or radius rods of your choice 
-HCR back plate 
-Tie rod extensions  
-HCR custom shock tower 
-HCR shock package of choice - Custom Longer shocks Required 
-6 month tuning session available to all HCR customers
-Endless customer support 
-RCV Extended Axles 
-New bushing and needed hardware 
-4 year of R&D , testing and tuning behind the ORIGINAL XP 1000 long travel kit 
-limited lifetime warranty 
-American-made, quality product 




WHAT YOU WILL NEED 
-A professional mechanics install  (8-12 Hours) 
OR
-10 - 16 hours self install time  
-tools and lift 
-shock reservoir mounting hardware 
-a final call to HCR on fine tuning shock setup after install is complete
-Compatible wheel offset (+1 inch offset & 4" or less of back spacing ) 
SHOCK PACKAGE - 
king PRS Custom shock package- 2.5 piggyback front-  IBP W/ finned remote rears
HCR black& Sliver blue/springs
        RCV 300 M Balljoints +480.00
SHOCK PACKAGE
Each HCR XP1000 kit comes with a custom built set of shocks, tested and proven by the owner of King himself. HCR is a King Shock exclusive company so we are able to provide the best product and customer service possible to go over and beyond for our customers. an HCR XP1000 Long Travel shock package is a complete custom setup built as a true off road shocks from the King Pure Race Series Line. These shocks are both longer in stroke and eye to eye with custom valving and spring rate to work with a shock tower and push mounting points closer to the ball joint rather than the middle of the arm. These shocks, along with the HCR shock tower,  provide optimal performance and handling in the roughest terrain. With this shock package also comes a 3 months shock tuning guarantee.  If you are still unhappy with your shocks after initial setup, the customer has up to 3 months to call HCR and schedule a tuning session with King at no charge. Shocks come in HCR Black and Silver, a $400 upgrade option, at no additional cost, or traditional KING Blue upon request. 
CUSTOMIZED SHOCK PACKAGE

 
for the rear, internal bypass shocks with finned remote reservoirs are included standard with every kit. This needle valve technology can be setup with light valving at ride height to deliver a smooth comfortable ride while still providing substantial dampening force at full compression preventing bottoming out during hard use.  Front shocks are 12" stroke piggy backs with a soft initial hit and flutter stacks for high speed. Proper springs are provided to still allow full articulation of all 21" of travel in both high and low speed situations.  These shocks also come standard with billet compression adjusters which allow for 30% adjustment range with a click of a dial. Please note rebound is tuned into the valving and cannot be changed externally as IBP clickers (regardless of manufacturer)  only allow 5% external adjustment.  
IBP FRONT UPGRADE  
Intended for the Aggressive Duners, Racers, and those who like to push it that much harder. This upgrade extends the same internal bypass technology included in the rear shocks to all 4 corners. This patented needle-valve design allows for less bottoming and shock fatigue on square edges, G outs, long distance racing, jumping, etc. where the front end needs a little more. While a little more harsh on initial deflection, these IBP's get pushed, the smoother the ride. 
3.0 REAR IBP UPGRADE

 
Reminder: HCR shocks are Full Offroad Shocks, not UTV shocks. An HCR Race Series King 2.5 has a larger piston and internals than a standard  3.0 UTV shock. This will also add and additional 16lbs per corner. 3.0 shocks should only be considered in BITD/ SCORE/ Long Distance Race application.  - Lifetime Warranty (+$480.00     
Reviews